WONDERFUL WORLD
THE CONCERT
"An ode to nature as an artistic mission.
To awake consciences across the world.

Christian-Pierre La Marca
AVAILABLE IN A NEW SYMPHONIC VERSION
A classy and eminently creative offering.
An ecology-themed project that creatively breaks down genre boundaries

Gramophone Magazine
Perfect time for cellist Christian-Pierre La Marca to release a new project that's all about saving the planet. Bold ambition, startling juxtapositions and profits from sales going to the GoodPlanet Foundation. Brilliant !

BBC RADIO 3
Political advocacy in the best sense of the word.
A commendable and sincere approach that is very touching.

Diapason
It isn't hard to understand why French cellist Christian-Pierre La Marca felt overwhelmed by the scale of the challenges that humanity faces. Fantastic !

The Strad
Distribution
CHRISTIAN-PIERRE LA MARCA, CELLO & ARTISTIC DIRECTION
YANN ARTHUS-BERTRAND, PICTURES & FILMS
NATHANAEL GOUIN OR JULIEN QUENTIN, PIANO
ENSEMBLE FROM ORCHESTRE DE PARIS
PROJECT
In this humanistic ode to nature, French cellist Christian-Pierre La Marca presents a packed programme on the theme of saving the planet. He uses his own eloquent instrument in a unique and unprecedented project of solidarity.
Wonderful World is a project of multiple inputs, all converging on Christian-Pierre La Marca's awareness of the need to save our planet. As he explains, 'Music has the ability to awaken consciences, to make people more sensitive, without trying to convince or mobilize them. Music is a short circuit that goes straight to the heart.' His sense of engagement has already found artistic expression in his creation of the Concert for the Planet in 2019. Today it is embodied in this multi-ethnic project of many-voiced solidarity featuring classical, neo-classical, world music and jazz, all intoning the same song of the Earth.
Concert-show, imagined and created by cellist Christian-Pierre La Marca, as part of his commitment to raising public awareness about saving our planet as well as issues of protecting our environment. This project interweaves several art forms in order to raise public awareness to the beauty of the world and nature… At the same time, a way to alert people. An apolitical vision that awakens consciousness through beauty and the artistic force of multiple arts.
Concept
An immersive concert staged with diffusion of images, around the repertoire for cello with piano, orchestra and narrator, in the form of an Ode to Nature. The architecture of the project is skilfully studied, taken from various texts that are significant in our history, in connection with the preservation of our "Common House". It questions our current global situation, the climate emergency and outlines prospects for ecological conversion. Themes speak about nature, cities, animals, endangered species, climate change… An immersive journey conducive to reflection, meditation and public awareness.
In the background, films, images and works by photographer and director Yann Arthus-Bertrand are projected on a big screen (or as a mapping in a special building). A selection is projected – according to particular sequences – which illustrates different themes of the project, to create a perfect alchemy between music, writings and images.
Repertoire
Works are borrowed from different styles from baroque to film music, including jazz and moderns. They interact alternately with the narration of engaging texts by women and men who have marked the history of ecology. The writings are taken from poems, speeches, reflections by Lucrèce, Rousseau, Ghandi, Rimbaud, Baudelaire, De Noailles, Châteaubriand, Rhabi. These texts are narrated by an actor.
Songs of wonder, questioning, wake up calls, songs of prayer : all are heard in the course of these twenty-six titles, reflected in the images by Yann Arthus-Bertrand.
The cello, in the hands of Christian- Pierre La Marca, has often been compared to the human voice, in its handling of the melodic lines and curves, its flexibility, its lyrical intensity. In addition, an ensemble of musicians from the Orchestre de Paris lends its sup- port, with bespoke arrangements of a variety of pieces ranging through Harlen's Over the Rainbow, Fauré's song Après un rêve, Summertime by Gershwin, The Swan by Saint-Saëns, I giorni by Ludovico Einaudi, The Hours by Philip Glass, and Kurt Weill's Lost in the Stars.
VIDEOS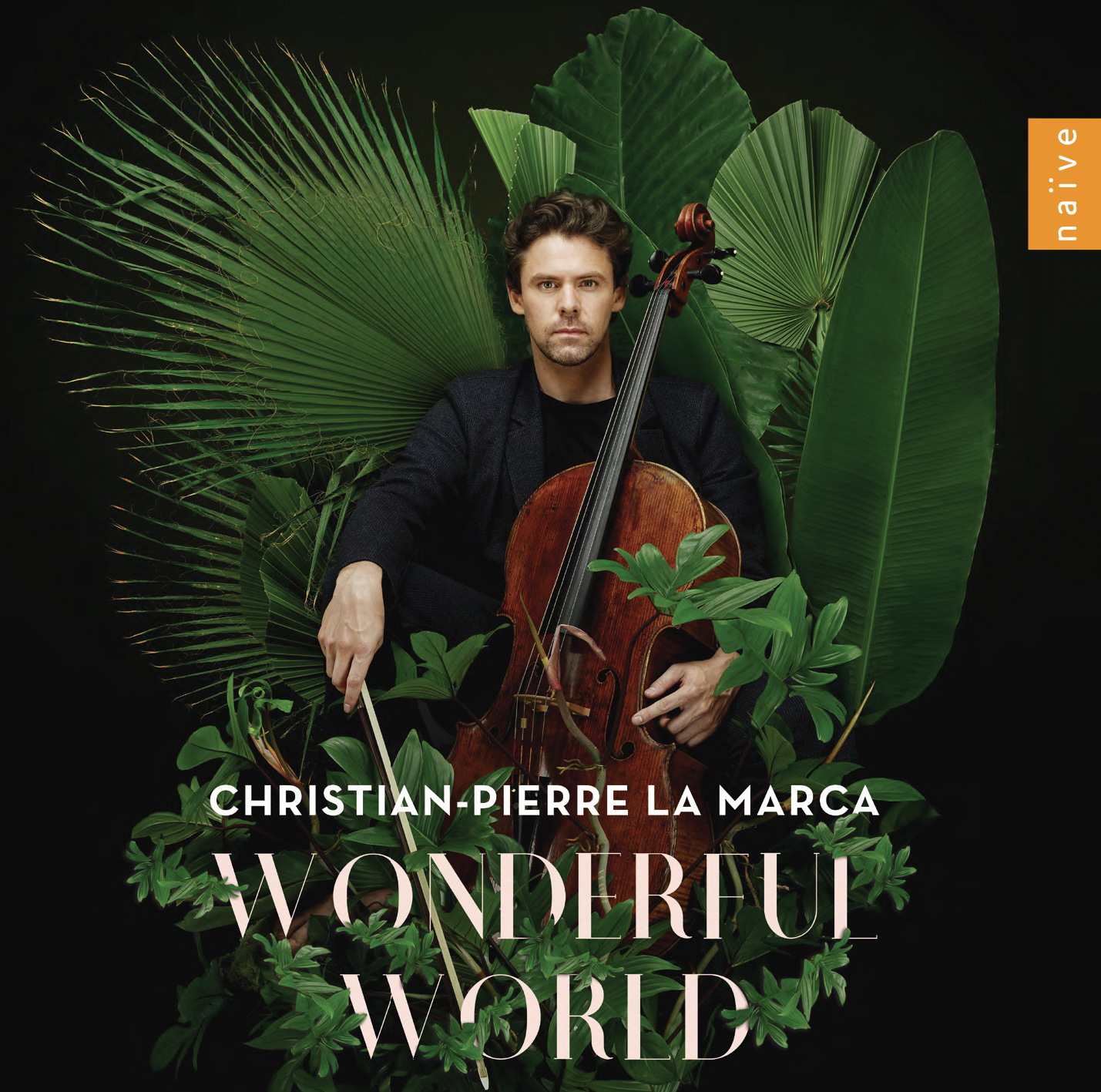 Program
J.S. Bach : Cello Suite I BWV 1007 – Prelude
WONDER
L.v. Beethoven : Sonata n°4 for cello and piano op.102 n°1, Andante-Allegro
G. Fauré : « Après un rêve » for cello and piano
THE HUMAN CRY
F. Say : Sonata for cello and piano « Four Cities »
The issue of water
1. Sivas
Pollution, cities and waste
2. Hopa
THE EARTH CRY
The biodiversity lost
Forests, Amazonia : earth's lung
Dvorak : « Silent Woods » (From the Bohemian Forest)

The sea, the oceans
Ramirez : "Alfonsina y el Mar" for cello and piano or
Debussy : "Jeux d'eaux" for piano solo

Endangered species"
J.P. Rameau : « Rappel des oiseaux » for piano solo
C. Saint-Saëns : « The Swan » for cello and piano
N. Rimsky-Korsakov : « The flight of the bumblebee" for cello and piano

Global warming
G. Gershwin : « Summertimes » for cello and piano
or P. Glass : « The hours » for cello and ensemble

INTERDEPENDANCE BETWEEN MAN AND NATURE

Night
H. Mancini : « Moon river » for cello and piano (argmt: Gassot/La Marca)

Day
L. Einaudi : « I Giorni » for cello and piano (argmt: Gassot/La Marca)

Seasons
N. Frahm : « Ambre » from Wintermusik for cello and piano
(argmt: Gassot/La Marca)
AWARENESS
P.I. Tchaikovsky : "Valse Sentimentale" for cello and piano
SONG OF PRAISE
E. Bloch : « Prayer » from "Jewish life" for cello & ensemble
or O. Messiaen : « Louange à l'éternité de Jésus » from "Quatuor pour la fin du Temps" for cello and piano

PROSPECTS & AWAKENING
"Harold Harlen : « Over the rainbow » for cello and piano
A. Piazzolla : "Le Grand Tango" for cello and piano or
"Libertango" with ensemble
L. Armstrong : « What a wonderful world » for cello and piano (ensemble)
(argmt: Gassot/LaMarca)
SELECTED PICTURES
IMAGES LIVE